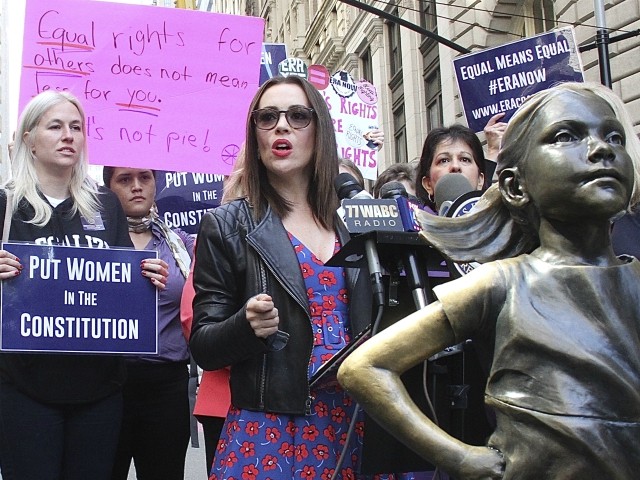 A new article from Variety profiles Hollywood celebrities from Alyssa Milano to Amy Schumer who are spending unprecedented time and effort on electing Democrats this fall.
Actress Alyssa Milano feels that the midterms are a "perfect storm" from "electing Trump to #MeToo to this Kavanaugh hearing and Dr. [Christine Blasey] Ford coming forward."
"This is all personal now. And when we are seeing our rights stripped away, we're scared. Women are scared," Milano told Variety.
The 45-year-old actress is also quoted as saying that "enraged" women will help Democrats win the Senate.
"Because of Kavanaugh. I think that women are enraged," the star of Netflix's Insatiable said. "On voter registration day, there were 800,000 new registered voters, which is the most of any single day that we had. I don't think that is a coincidence, and that was in the middle of all of this. And I think what the polling is not showing are first-time voters who I believe, through the youth-activism movement we're having, are going to come out in droves."
Milano made herself into a central figure of the opposition to Brett Kavanaugh's nomination, attending the hearings herself and taking part in multiple anti-Kavanaugh protests.
Actress Amy Schumer also made herself the focus of anti-Kavanaugh protests after she agreed to be "arrested."
Schumer chronicled her bravery by posting a video of herself protesting on Twitter.
thanks @taylorswift13 let's go! pic.twitter.com/DviAHLgXmu

— Amy Schumer (@amyschumer) October 9, 2018
Other celebrities have opened their wallets, making significant financial contributions toward Democratic causes.
Last month, the Washington Post reported, "People who work in the television, movie and music industry in the Los Angeles metro area have given $2.4 million to House candidate committees so far this election, with the vast majority going to support Democrats." The Post also reported that Hollywood's political giving was "$1 million more than they gave for the 2016 elections."
HBO funnyman Bill Maher donated $1 million to the liberal Senate Majority PAC in August, following Seth MacFarlane, who donated $2 million to the same PAC earlier this year.
A recent report indicated that 99.7 percent of donations from Hollywood power players were going to Democrats.
However, Variety also points out the potential for backlash. Polling and elections guru Frank Luntz says Hollywood politicking can turn many average Americans off.
"If I were advising the Hollywood community, I would tell them to tone it down and that less is more, but they rarely take my advice," Luntz said.
He may be right. A new poll released Monday showed that a large majority of Americans do not have their vote swayed by outside endorsements from celebrities.
http://feedproxy.google.com/~r/breitbart/~3/2BKbtERSmGI/