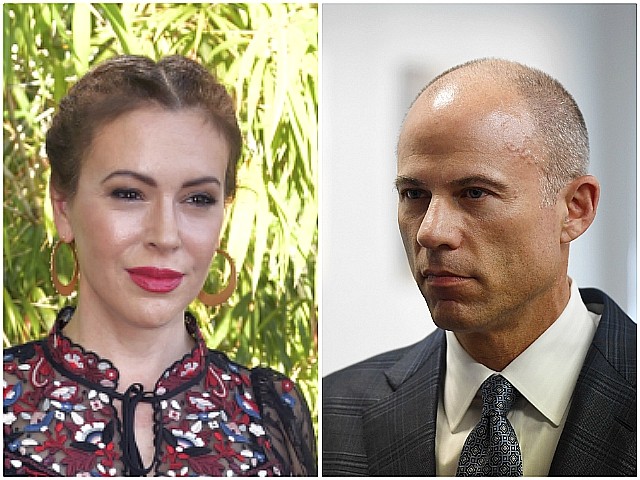 Actress and far-left activist Alyssa Milano disavowed left-wing lawyer and 2020 presidential hopeful Michael Avenatti on Wednesday, after his arrest over allegations of domestic violence.
Avenatti, who has become a darling within various left-wing circles for his work representing porn actress Stormy Daniels in her case against her President Donald Trump, was arrested by the LAPD on Wednesday on charges of domestic violence after he allegedly left a woman "swollen and bruised."
"Totally disgusting," Milano tweeted. "And before anyone asks me, yes, I'm disavowing Avenatti. I do not care what side he's on. #Basta."
Totally disgusting. And before anyone asks me, yes, I'm disavowing Avenatti. I do not care what side he's on. #Basta https://t.co/sHK1PggVsj

— Alyssa Milano (@Alyssa_Milano) November 14, 2018
Milano's use of the word #basta was also a reference to Avenatti, who frequently ends his Twitter posts with the word, meaning "enough" in Spanish. The pair recently appeared together for a protest outside the White House against the Trump administration.
After posting $50,000 in bail, Avenatti publicly denied the charges and vowed to clear his name.
"I have never struck a woman. I never will strike a woman," he told reporters. "I am looking forward to a full investigation, at which point I am confident that I will be fully exonerated."
The case will likely deal a fatal blow to Avenatti's presidential ambitions, with the 47-year-old previously claiming that he would "absolutely" beat Donald Trump in a 2020 run-off. According to polling data released this week before the allegations emerged, zero percent of Democrats said they want him as their nominee.
It is not the first time that Milano, who has become one of Hollywood's leading anti-Trump activists, has chosen to disavow figures on the left. Just last week, Milano distanced herself from the Women's March over its close connections to the anti-Semitic activist Louis Farrakhan.
"Any time that there is any bigotry or anti-Semitism in that respect, it needs to be called out and addressed," she said in an interview with The Advocate. "I'm disappointed in the leadership of the Women's March that they haven't done it adequately."
Follow Ben Kew on Facebook, Twitter at @ben_kew, or email him at bkew@breitbart.com.
http://feedproxy.google.com/~r/breitbart/~3/YVsPBTj3Xz4/