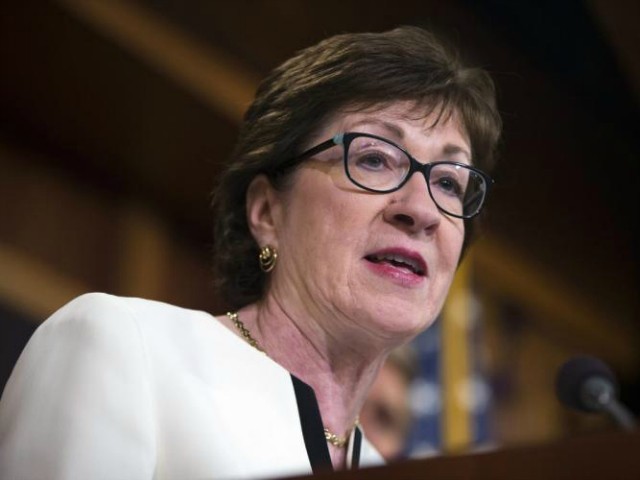 Alumni and faculty of Sen. Susan Collins' (R-ME) alma mater are together urging the university to revoke her honorary degree over her vote to confirm Justice Brett Kavanaugh to the Supreme Court.
More than 1,800 alumni, current students, and dozens of people on staff at St. Lawrence University sent letters to administrators demanding the university rescind Collins' honorary degree she received in 2017, CBS News reported.
Collins graduated from the small northern New York liberal arts college in 1975 and received two honorary degrees from the institution. She most recently received an honorary doctorate of Humane Letters in 2017.
One letter signed by more than 1,300 alumni and current students said Collins' support of Kavanaugh goes against the "core values" of the university.
"At the time she was nominated she was being recognized as a senator who was willing to break party ranks to protect The Patient Protection and Affordable Care Act (ACA). Her decision to stand for what she saw as the greater good embraced the strong values of St. Lawrence University," the letter said.
A separate letter from faculty said revoking Collins' degree would help the school "dismantle rape culture" on campus.
"While our campus has come a long way in the years since Senator Collins was a student here to educate the campus population about sexual assault and harassment, and to adjudicate it fairly when it happens, we still have much hard work before us in and outside of the classroom," the faculty wrote in the letter.
Despite the calls from faculty and alumni within the university to revoke Collins' 2017 honorary degree, a university spokesperson said "it has no intention doing so" anytime soon.
"Throughout its long history, St. Lawrence University has never rescinded any earned or honorary degree, and it has no intention of doing so in this situation," university spokesperson Ryan Deuel told CBS News.
http://feedproxy.google.com/~r/breitbart/~3/BKPiskrncRw/