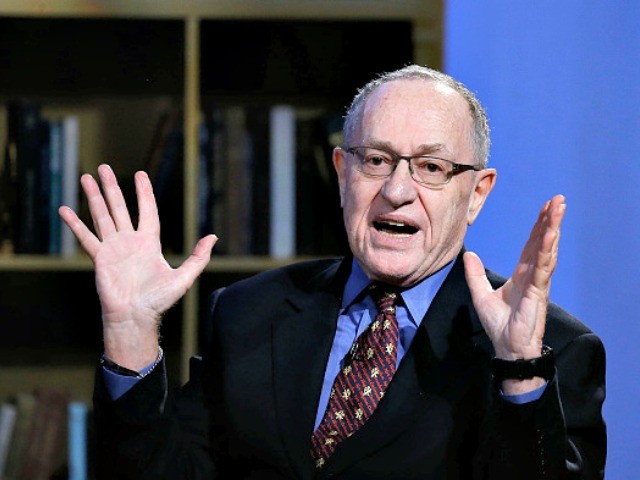 Harvard Law School Professor Emeritus Alan Dershowitz described demands for Judge Brett Kavanaugh to testify before Christine Ford as "absurd," "outrageous," and "inconceivable." He offered his remarks in a Friday interview on SiriusXM's Breitbart News Daily with Breitbart News Editor-in-Chief Alex Marlow.
Ford, a California professor, accused Supreme Court nominee Kavanaugh of a "rape attempt" when both were high schoolers in the 1980s.
Dershowitz said, "It's obvious what should happen. [Christine Ford] should testify first, make the accusation, lay it out, and then [Brett Kavanaugh] should be asked to respond."
LISTEN:
Dershowitz added, "Civil liberties have to be complied with, and the ACLU, we don't hear from them. When the accuser's lawyer says that the accused has to go first, that's such a fundamental denial of due process, the way they used to do it in the Star Chamber, you call somebody in, have him deny everything, and then you bring in the accuser afterward. That's just not the way the Anglo-American system of justice has ever worked."
Dershwoitz continued, "It would be outrageous to have him testify first and her testify only in response, and I want to hear from the American Civil Liberties Union on that issue. For years and years they've talked about due process of law and due process can't apply only to Democrats and not to Republicans."
Dershowitz explained the centrality of an accused's right to respond to his or her accuser.
"What's not reasonable, at all, and what really destroyed the credibility of some of the other reasonable claims, is this demand that he go first," said Dershowitz. "It's just impossible to imagine a legal system that is anything consistent with the rule of law which puts the accused on the stand first before the accuser takes the stand. It's just inconceivable that that should happen."
Dershowitz criticized assumptive descriptions of Ford as a "victim" and "survivor," as well as descriptions of Kavanaugh as a "perpetrator."
"What you have is media on the left calling her a victim and calling her a survivor, we don't know if that's true," noted Dershowitz. "It may very well be true, and calling him a perpetrator, and we don't know whether that's true. The presumption of innocence has to still apply."
Breitbart News Daily broadcasts live on SiriusXM Patriot 125 weekdays from 6:00 a.m. to 9:00 a.m. Eastern.
Follow Robert Kraychik on Twitter.
http://feedproxy.google.com/~r/breitbart/~3/Y5R3bCnHOKk/