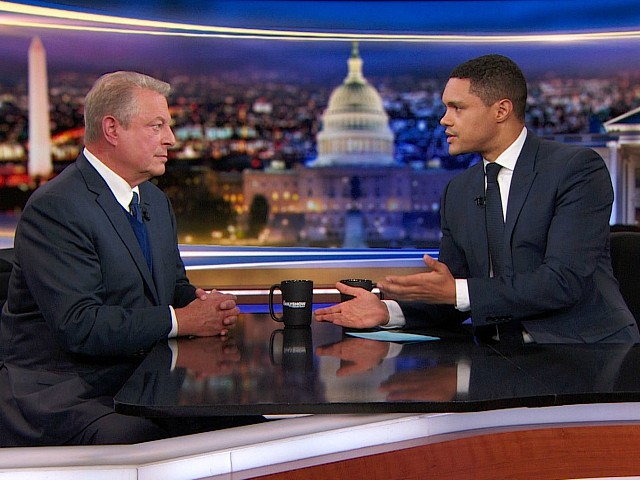 Climate change alarmist and former Vice President Al Gore told Comedy Central host Trevor Noah that President Donald Trump now represents the "face of climate-change denial."
The pair opened the discussion in reference to Trump's recent dismissal of a climate change report that claimed that the effects of man-made climate change would cost the U.S. economy hundreds of billions of dollars over the next decade.
"Here's the thing: We are treating the atmosphere as an open sewer," Al Gore explained. "It's a very thin shell around the planet, and we're changing it dramatically by dumping 110 million tons of man-made, heat-trapping global warming pollution into it every day."
"The cumulative amount now traps as much extra heat energy every day as would be released by 500,000 Hiroshima-class atomic bombs exploding every 24 hours," he continued. "It's a big planet, but that is an enormous amount of energy. That's why the temperatures are going up, the water cycle's being disrupted. And the fires! Look at the fires in California just recently."
Noah interjected by quoting comments made by Trump earlier this week where she described America's air and water as at a "record clean."
"Yeah, yeah, yeah. You know, it's really significant, Trevor, that Donald J. Trump is now the face of climate denial," Gore responded. "And there are those who are still giving him their loyalty and trust. And I get that, believe me, but the vast majority of Americans, not to mention all around the world, are really kind of—they've had it with the constant craziness, if you want to call it that way."
Gore has long been one of the world's leading proponents of action on climate change, and has previously denounced Trump's approach to the issue as "literally insane." His involvement in the environmentalist movement began with his flawed 2006 documentary film An Inconvenient Truth, which predicted pending environmental disaster unless drastic action was taken. That disaster never came as many of Gore's predictions were overblown.
Last August, Gore released a follow-up film, An Inconvenient Sequel: Truth to Power, which followed his attempts to persuade politicians to invest in renewable energy. That same month, a report from the National Center for Public Policy Research found that Gore's own house burns 34 times more electricity than the average American household, with an enormous energy bill of $22,000 a year to pay for facilities including his heated outdoor swimming pool.
Follow Ben Kew on Facebook, Twitter at @ben_kew, or email him at bkew@breitbart.com.
http://feedproxy.google.com/~r/breitbart/~3/Uj2nb6stuqc/