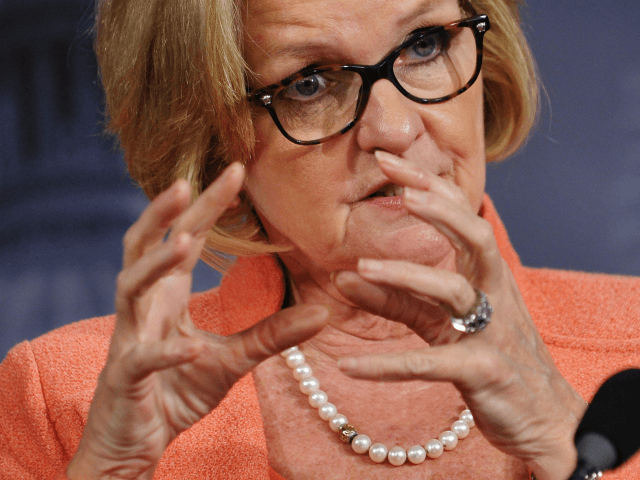 Democrat Sen. Claire McCaskill (D-MO), who is slipping in the polls behind her Republic challenger, offered Elizabeth Warren and Bernie Sanders' names when Fox News's Bret Baier asked her who the "crazy Democrats" are.
"The crazy Democrats are people who walk in restaurants and scream in elected officials' faces. The crazy Democrats are — we have a state senator here in Missouri that advocated for the assassination of President Trump. That's a crazy Democrat," said McCaskill. "I don't do those things. I am not somebody who thinks we should ever be uncivil."
Baier then pressed McCaskill for the names of those she considers "crazy" Democrats.
"Well, I would say this. I would not call my colleagues crazy, but Elizabeth Warren sure went after me when I advocated tooling back some of the small regulations for small banks and credit unions," said McCaskill. "I certainly disagree with Bernie Sanders on a bunch of stuff. So I'm not afraid…"
The question Baier asked McCaskill came after her recent radio ad in which she informed Missourians that she is "not one of those crazy Democrats."
Missouri Rising Action launched a digital ad on Monday to inform other Missourians about McCaskill's statements in other parts of the state.
McCaskill, who considers herself an "everyday Missourian," faced scrutiny this year after ditching an RV and jetting across the state in a private plane.
McCaskill explained her reasoning in an interview.
"I added some stops with the use of the plane, but I was on the RV so much that the broken drawer drove me crazy," McCaskill said in a brief interview, adding, "I even lost an iPad around a corner on the RV."
In 2012, McCaskill sold her private plane after it was revealed she and her husband failed to pay $320,000 in back taxes on the $2 million aircraft. McCaskill also reimbursed the federal Treasury $88,000 in 2011 after Politico reported that she used taxpayer money to pay for nearly 90 flights on the plane.
A poll released on Tuesday for the Missouri United States Senate race revealed Republican Josh Hawley leading Democrat Claire McCaskill.
The Cygnal phone survey of 501 likely Missouri voters, conducted from October 26 – 27, shows Hawley with a solid three-point lead over McCaskill.
Hawley leads McCaskill on the U.S. Senate Ballot, within the margin of error, at 49 percent to 46 percent. Just 1 percent prefer a third-party candidate, while 3 percent are undecided.
The poll also shows women being split with 48 percent for McCaskill to 47 percent for Hawley. Men favor Hawley 52 percent to 46 percent.
The Cygnal poll has a margin of error of ± 4.38 percent at a 95 percent confidence interval.
Follow Kyle on Twitter @RealKyleMorris.
http://feedproxy.google.com/~r/breitbart/~3/PlYg5K18W2g/