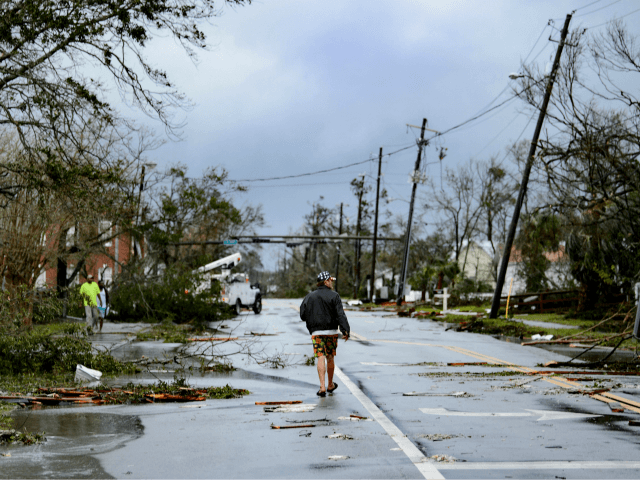 Aerial footage shows the extent of Hurricane Michael's eye-popping destruction after the storm slammed Mexico Beach, Florida, with 155 mph winds Wednesday. At least two people were left dead in its violent aftermath.
FEMA Administrator Brock Long said in a press briefing Thursday morning that Mexico Beach " took the brunt" of the storm and the number of fatalities is presently unknown. "That's probably ground zero," Long said on the Panhandle town.
Federal rescue teams have begun searching for survivors and assessing the damage. "Today is a big day for us when it comes to helping people," Long told reporters, adding "Power is not going to be on for a while."
Surveilling Mexico Beach by helicopter, CNN's Brooke Baldwin was rendered nearly speechless by Hurricane Michael's aftermath. "I've never seen anything like this," the stunned anchor said as she flew over the storm-wrecked area Thursday morning. "I have no words"
CNN's @BrookeBCNN is in a helicopter flying over Mexico Beach, Florida, getting a look at one of the hardest hit areas from Hurricane Michael: "It's gone… it's obliterated… I've never seen anything like this… I have no words" https://t.co/sFUNF4n8aS pic.twitter.com/lPpgc0IsWw

— CNN (@CNN) October 11, 2018
Aerial view of the unbelievable destruction over Mexico Beach, Florida from #HurricaneMichael pic.twitter.com/QxMQHrajlb

— ABC 13 News – WSET (@ABC13News) October 11, 2018
10-11-2018 Mexico Beach, Fl Hurricane Michael Catastrophic aftermath from Helicopter Aerial: https://t.co/W3PfuTyIOF via @YouTube

— Live Storms Media (@LiveStormsMedia) October 11, 2018
Another angle of #MexicoBeach Utter devastation. Winds, storm surge…@breakingweather @bclemms @accuweather pic.twitter.com/xgf4hDoxLb

— Jonathan Petramala (@jpetramala) October 11, 2018
VIDEO: Mexico Beach is "completely obliterated" from #HurricaneMichael's direct hit. Daylight drone video exposes the true devastation across the Florida Panhandle. At least two people were killed: https://t.co/EypFsFBQoS pic.twitter.com/a8DVYy9ZSO

— FoxNashville (@FOXNashville) October 11, 2018
.@skyjax1 is over #MexicoBeach following #Michael. This is hard to see. I spent some 4th of July's here as a kid. 😔 @ActionNewsJax @WOKVNews #firstalertwx pic.twitter.com/ZXsHF2YEjS

— Russell Colburn (@RussellANjax) October 11, 2018
Aerial views of Mexico Beach shows entire houses just tossed from their foundation or turned to rubble. Reminds me of Andrew pic.twitter.com/JKJFjyWnm5

— Brian L Kahn (@blkahn) October 11, 2018
Unbelievable destruction, aerial view from Helicopter over Mexico Beach, Fl.

Credit:
Brandon Clement / LSM pic.twitter.com/ShYCwxeiwK

— KFDM News (@kfdmnews) October 11, 2018
Tyndall Air Force Base experienced widespread damage, with virtually every building suffering roof damage, the base's commander said.
Tyndall Air Force Base suffered extreme damage from Hurricane #Michael as it came ashore. Nearly every structure on base suffered roofing damage according to the base commander. #flwx #tropics pic.twitter.com/9WeXTwMSu4

— Zach Covey (@ZachWPDE) October 11, 2018
http://feedproxy.google.com/~r/breitbart/~3/O1bdie6XjDY/