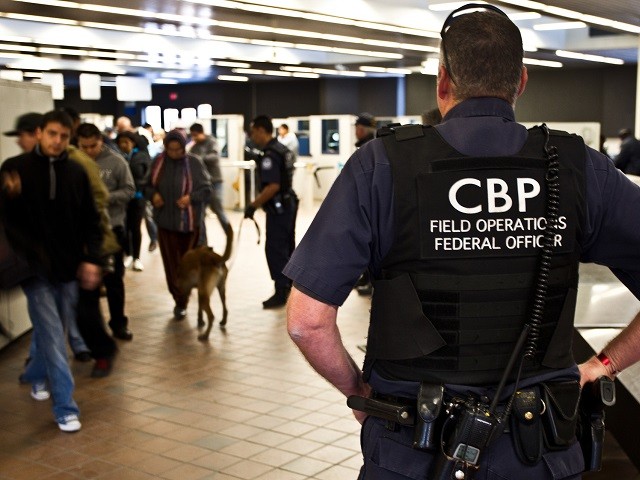 A U.S. Customs and Border Protection (CBP) officer assigned to an El Paso, Texas, port of entry reportedly discovered an adult migrant who fraudulently claimed to be an unaccompanied minor during a crossing.
A CBP officer working immigration inspections at the Paso Del Norte Port of Entry observed a man, a pregnant female, and other migrants approaching his station. A member of a non-governmental organization escorted the group from Mexico into the U.S. to make an asylum claim, according to CBP officials on Wednesday.
The male traveling with the pregnant woman allegedly claimed to be an unaccompanied minor and presented the Guatemalan birth certificate of his underage cousin. The officer reportedly determined the man presented the document fraudulently and is actually a 21-year-old adult. The officer arrested the man, who will face federal charges for making false or misleading representations at the border.
The officer identified the Guatemalan man as Baltazar Almicar Nolasco Pascual. He is now in the El Paso County jail awaiting prosecution for the alleged immigration violation. Officers processed the pregnant woman's entry as a "credible fear" applicant.
"CBP will maintain its vital homeland security mission at all times. CBP officers are vigilant and thorough in their document exams," CBP El Paso acting Port Director Ray Provencio said in a written statement obtained by Breitbart. "History has proven that people will attempt to utilize any method they can to enter our nation in a fraudulent manner. We strongly encourage those who want to support those seeking entry to be vigilant that those they support aren't attempting to circumvent U.S. laws."
Bob Price serves as associate editor and senior political news contributor for Breitbart Border/Cartel Chronicles. He is a founding member of the Breitbart Texas team. Follow him on Twitter @BobPriceBBTX and Facebook.
http://feedproxy.google.com/~r/breitbart/~3/E5CAMUbLsaU/