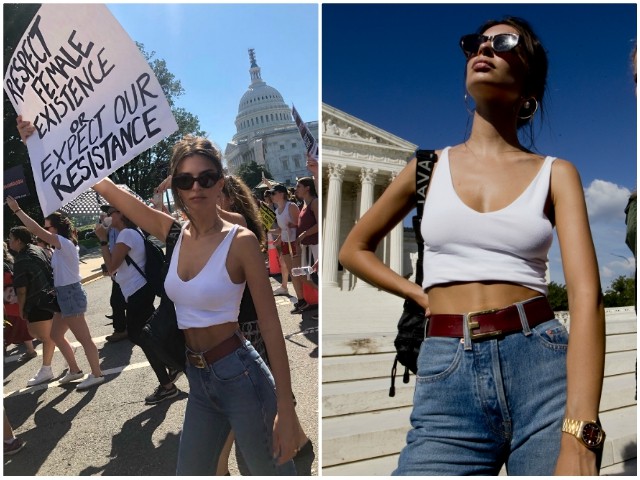 Actress and model Emily Ratajowski was told to "put on a bra" by her social media followers as she protested against President Donald Trump's Supreme Court nominee Brett Kavanaugh.
Holding a sign declaring: "Respect female existence or expect our resistance," the 27-year-old was one of the dozens of protesters to storm the atrium of a Senate office building on Friday before she was arrested alongside fellow actress Amy Schumer.
"Today I was arrested protesting the Supreme Court nomination of Brett Kavanaugh, a man who has been accused by multiple women of sexual assault," Ratajkowski wrote on Instagram.
"Men who hurt women can no longer be placed in positions of power. Kavanaugh's confirmation as a Justice of the Supreme Court of the United States is a message to women in this country that they do not matter," the Gone Girl actress wrote. "I demand a government that acknowledges, respects and supports women as much as it does men."
However, a year after Ratajowski complained that she couldn't find work in Hollywood because her breasts are too big, her protest outfit appeared to attract more attention than the cause she was protesting.
Her followers urging her to cover up, with some women even slamming her "f me clothes" and "twisted toxic feminism."
why no bra tho?

— Lacompactdisc (@Lacompactdisc) October 4, 2018
Come on go home. Waste of time young child. And put a bra on.

— Carrie White (@CarewhiteWhite) October 4, 2018
Sorry I was focused on something else, can you say that again?

— Elrod Hoyer (@GutsGloryPizza) October 4, 2018
She's wearing her F Me clothes trying to use sex to sell her twisted #ToxicFeminism

I'm a woman so I can say that 😉#ConfirmKavanaghNow

— Mémé's Back!!! ❤️🇺🇸😘 (@56ma74tante) October 4, 2018
You got famous by starring in a misogynistic music video that celebrated sexual assault. https://t.co/PFeKjnNnqJ

— jon gabriel (@exjon) October 4, 2018
My guess is you dressed like this to catch the eyes of … (looks at notes) … men.

— PMacintosh (@The_PMix) October 4, 2018
Ratajowski was one of the thousands of far-left feminist activists leading the charge against Judge Kavanaugh's nomination, energized by uncorroborated allegations of sexual assault against him dating back over 35 years.
However, after weeks of debate and investigation, the Senate is now likely to confirm his nomination Supreme Court after key swing voters including Sens. Jeff Flake and Susan Collins announced that they would vote in favor of his confirmation.
Follow Ben Kew on Facebook, Twitter at @ben_kew, or email him at bkew@breitbart.com.
http://feedproxy.google.com/~r/breitbart/~3/e3Xf7o5DJaw/