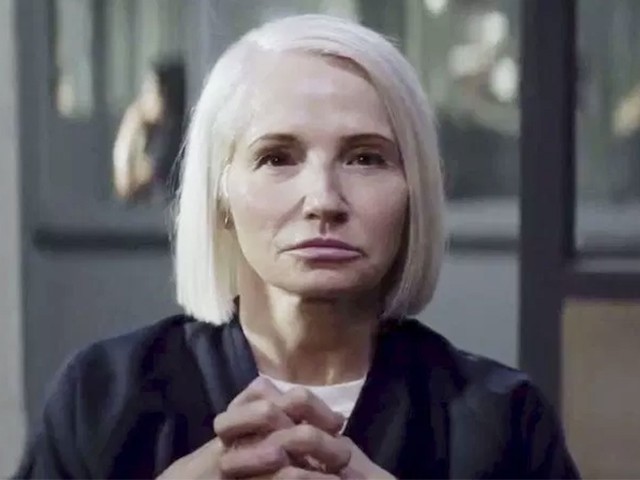 Actress Ellen Barkin took to Twitter on Monday and suggested that it wouldn't be enough to remove President Donald Trump from office.
"this man should be removed…and not just from office," Ellen Barkin said of President Trump. The Animal Kingdom star was reacting to a video that showed President Trump demanding that CNN reporter Kaitlan Collins ask questions about the newly minted trade deal between the U.S., Mexico, and Canada.
this man should be removed…and not just from office https://t.co/CRa5z4huG9

— Ellen Barkin (@EllenBarkin) October 1, 2018
President Trump insisted that Collins ask "a question about trade." The CNN reporter repeatedly attempted to ask a question about Judge Brett Kavanaugh. President Trump later answered Collins's Kavanaugh question. When she later attempted to ask a third question related to Judge Kavanaugh, President Trump moved on, telling her "you've really had enough."
Trump cracks a joke about never drinking: "I can honestly say I've never had a beer in my life. One of my only good traits. I don't drink. Can you imagine if I had, what a mess I be? I'd be the world's worst."

He ends the question by telling CNN's Kaitlan Collins to zip it. pic.twitter.com/D6CXeC8azy

— Ryan Saavedra 🇺🇸 (@RealSaavedra) October 1, 2018
Barkin's tweet about President Trump comes just days after she declared that she's only interested in being around "like-minded thinkers" after the Senate Judiciary Committee voted to advance the confirmation of the Supreme Court nominee.
"Dear scum of the earth," Barkin's tweet began. "In case sum haven't noticed, i am not looking to make any new friends right now," she wrote. "i don't care what you think, not now. let me rest. leave me alone with like-minded thinkers until i can see again."
Dear scum of the earth,
In case sum haven't noticed, i am not looking to make any new friends right now. i don't care what you think, not now. let me rest. leave me alone with like-minded thinkers until i can see again

— Ellen Barkin (@EllenBarkin) September 29, 2018
In 2012, Barkin made light of the untimely death of Andrew Breitbart. The actress also suggested that Breitbart's supporters are "evil assholes."
Follow Jerome Hudson on Twitter @jeromeehudson
http://feedproxy.google.com/~r/breitbart/~3/bU1EOBAIjMA/