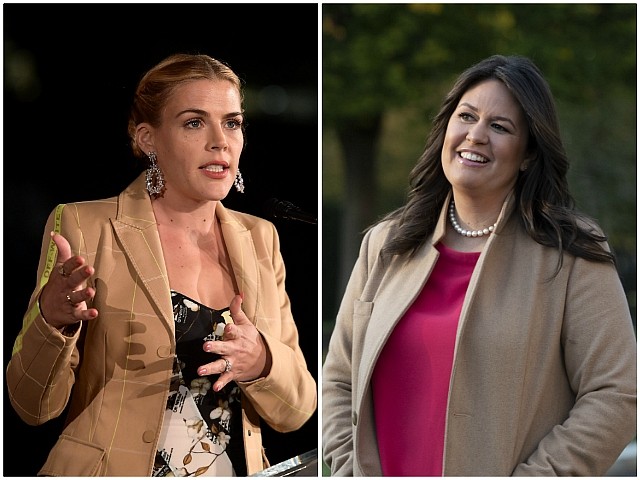 Actress Busy Philipps bragged about giving White House press secretary Sarah Huckabee Sanders a "mean look" after exiting a roller coaster ride at Disney World.
"Guys we just went on the rock and roll roller coaster," Busy Philipps wrote on her Instagram. "Scarier than that, when I got off, Sarah Huckabee Sanders was there. And she had a security guard so we didn't see anything, but I did do this," she said, before giving a dirty look to her camera.
"Honestly I didn't want to say anything because I didn't want to get kicked out of the park, and we were not with our kids because they were waiting with someone else. I gave her such a mean look," Philipps continued. "She saw it. She saw it."
The Cougar Town star later recounted the story via Twitter, explaining that it "doesn't seem fair" that Huckabee Sanders should enjoy time with her family while other families are "suffering because of the lies she spreads."
Just gave Sarah Huckabee Sanders a very dirty look at DisneyWorld. Just doesn't seem fair that she gets to enjoy it with her family while families are suffering because of the lies she spreads.

— Busy Philipps (@BusyPhilipps) November 23, 2018
Philipps, who recently starred in Amy Schumer's film I Feel Pretty, is one of many outspoken critics of the Trump administration on everything from gun control to LGBT issues and illegal immigration.
In June, Philipps produced her own t-shirt in response to a jacket worn by Melania Trump that read "I really don't care…do u?" Philipps version instead "I CARE… DO U?" in reference to the controversy surrounding the detention of migrants at the southern border.
I made a shirt. I care. Go to https://t.co/cRPvC1n831 to see what you can do to help. ❤️ pic.twitter.com/hty7Yc44K9

— Busy Philipps (@BusyPhilipps) June 22, 2018
More recently, Philipps urged Democrat Party candidates, Beto O'Rourke and Andrew Gillum, to run on a joint ticket against Trump in 2020 following their defeats in the recent midterm elections.
Beto/Gillum 2020.

— Busy Philipps (@BusyPhilipps) November 7, 2018
Follow Ben Kew on Facebook, Twitter at @ben_kew, or email him at bkew@breitbart.com.
http://feedproxy.google.com/~r/breitbart/~3/9bUrxR3NDNw/