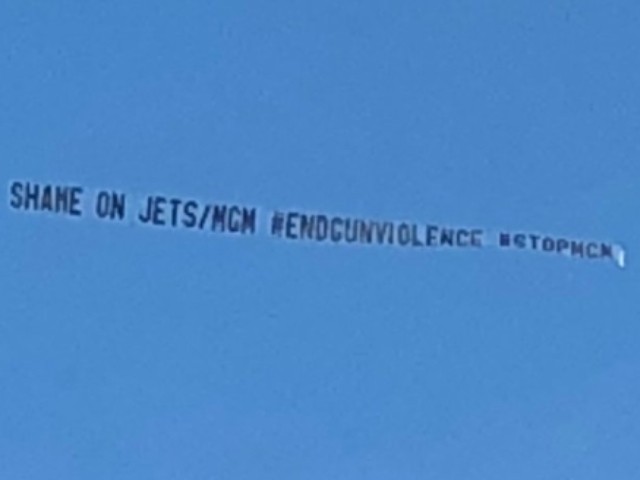 Hours before the New York Jets played the Bills on Sunday, a group of activists flew a banner over the team's stadium urging them to support gun control.
The impetus was the Jets recent agreement making MGM Resorts International an official partner of the Jets.
The Associated Press reports that the agreement between the Jets and MGM is "the most comprehensive and integrated gaming partnership in the league, and the first to go beyond a casino sponsorship."
MGM Resorts International made headlines after Stephen Paddock knocked the windows out of his 32-story room at the Mandalay Bay and shot and killed 58 people on October 1, 2017, wounding hundreds more. Mandalay Bay is owned by MGM Resorts International.
On July 17, 2018, Breitbart News reported that MGM was suing victims of that attack in order to prevent them from claiming MGM bore liability in the incident.
MGM has since backed off the suit, and is in discussion for a settlement.
Nevertheless, NY State Sen. Kevin Parker criticized the Jets for partnering with MGM:
I strongly disagree with @nyjets partnering with @MGMResortsIntl. The @MGMResortsIntl decision to sue the victims of the Mandalay Bay Shooting in Las Vegas is a complete disgrace! The @nyjets SHOULD NOT move forward #STOPMGMhttps://t.co/wKU8KC9sjm

— Senator Kevin Parker (@SenatorParker) November 8, 2018
On November 4, 2018, Breitbart News reported that Sen. Parker was one of the NY state Democrats pushing for a social media background check for all would-be gun buyers.
Under Parker's plan, a check into the last three years of posts on Facebook, Twitter, and Instagram, would be added to the retail background check to be sure individuals wishing to buy a gun had not used hate speech.
On Thursday, the day after the attack on Thousand Oaks, California's Borderline Bar & Grill, the Los Angeles King adopted Michael Bloomberg's gun control mantra "Enough," wearing a decal on their helmets and carrying signs. And wheres NY Sen. Parker did not define hate speech, the Kings did not mention what type of gun controls ought to passed in a state that already has every gun control imaginable.
AWR Hawkins is an award-winning Second Amendment columnist for Breitbart News, the host of the Breitbart podcast Bullets with AWR Hawkins, and the writer/curator of Down Range with AWR Hawkins, a weekly newsletter focused on all things Second Amendment, also for Breitbart News. He is the political analyst for Armed American Radio. Follow him on Twitter: @AWRHawkins. Reach him directly at awrhawkins@breitbart.com. Sign up to get Down Range at breitbart.com/downrange.
http://feedproxy.google.com/~r/breitbart/~3/VriRsc05qdQ/