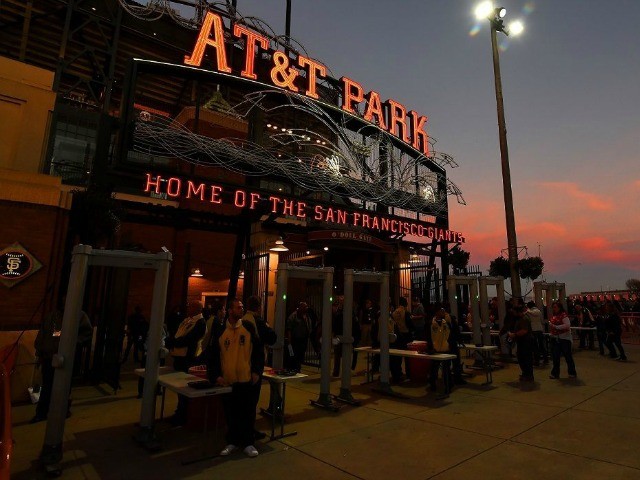 Bay Area activists are calling for a boycott of the San Francisco Giants after principal owner Charles B. Johnson and his wife donated thousands of dollars to Sen. Cindy Hyde-Smith's (R-MS) campaign weeks after she made her controversial "public hanging" remarks.
The San Francisco Chronicle reported over the weekend that Johnson and his wife, Ann, "each donated the maximum $2,700 to the campaign of Cindy Hyde-Smith" weeks after she was caught on tape telling a Tupelo, Mississippi, rancher: "If he invited me to a public hanging, I'd be on the front row."
Bay Area civil rights lawyer John Burris on Monday called for a boycott, saying that the team's "owner's values are totally inconsistent of this entire community and contemporary modern views of the social order."
"When I learned that Charles Johnson, principal owner of the San Francisco Giants sent $2,700 to Cindy Hyde-Smith, a candidate for Mississippi Senator and an avowed segregationist, I was shocked and felt a sense of community betrayal," Burris also told Politico. "As such I will never attend, and I will encourage others not to attend another San Francisco Giants' game as long as Charles Johnson is associated with the team. As a public trust, the Giants' have a responsibility to its players and fans to act now."
Giants President and CEO Larry Baer released a Monday statement in which he said "in no way does the Giants organization condone any racist and hateful language and behavior by anyone. It is abhorrent and in direct conflict with the core values of the San Francisco Giants."
Baer continued:
The Giants have more than 30 owners. Just like our fans, they come from different backgrounds and have their own political views. Many give to Democratic causes, many to Republican causes and some refrain from politics altogether. Neither I nor anyone else at the Giants can control who any of our owners support politically, just as we cannot and should not control whom any of our employees support politically. While our 30-plus owners span the political spectrum, they share one core belief: that sports has the power to inspire and galvanize a community. In 1992, when the Giants were about to be sold to a group in Tampa, these individuals recognized the importance of the Giants to the community, and they saved the team for the Bay Area. They helped turn the Giants into one of the most socially-minded and successful organizations both on and off the field. That vision has never faltered. We remain steadfast in our mission to serve our fans and the community.
Civil Rights activist and Berkeley sociologist Harry Edwards also called for a boycott over the weekend, saying "it is anathema to my sense of social justice to support a team whose owner financially supports Hyde-Smith."
I join Attorney John Burris in calling for a total boycott of ALL SF Giants games, community events , and other activities until its owner explains his financial support for segregationist advocates of public hangings and " monkey " comments.

— Dr Harry Edwards (@drharryedwards) November 26, 2018
The Sacramento Bee's Marcos Breton also announced over the weekend that he is boycotting the Giants over Johnson's donation to Hyde-Smith.
"Charles B. Johnson, principal owner of the San Francisco Giants, is free to support financially the racist people or causes of his choice. And as someone who has followed the Giants and dumped a considerable amount of money on Giants tickets and merchandise for more than 40 years, I am free to divert my discretionary income elsewhere as long as Mr. Johnson is on the scene," Breton wrote. "That's how America works. That is how business works. I am hereby financially boycotting the team of my youth. But Johnson is an enabler of a bigot who has espoused support for voter suppression. He has given his money to a candidate who makes jokes about public lynchings, and I can't support that."
Major League Baseball also made a $5,000 donation to Hyde-Smith's campaign and has reportedly asked for it back. Companies like Walmart, Amgen, AT&T, Pfizer have also asked Hyde-Smith's campaign to return their donations in recent weeks.
President Donald Trump is campaigning for Hyde-Smith on Monday, a day before she faces off against Democrat Mike Espy in Tuesday's runoff election. Hyde-Smith has a five-point lead, according to a Change Research poll conducted over the weekend.
http://feedproxy.google.com/~r/breitbart/~3/HwKTT7Re_9U/