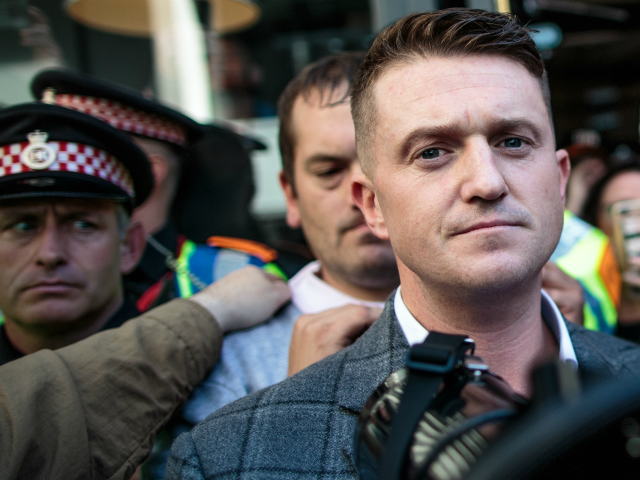 Citizen journalist and street organiser Tommy Robinson has had his contempt of court trial date confirmed for next week when he will appear at the Old Bailey for breaching reporting restrictions.
The founder and former member of the English Defence League is accused of breaching reporting restrictions when he live-streamed on Facebook defendants outside of a courthouse in Leeds on May 25th while a reporting restriction was in place.
In the 30-second hearing on Tuesday, at which Mr Robinson, real name Stephen Yaxley-Lennon, was not required to attend, Judge Nicholas Hilliard QC confirmed that he would hear the case on the 23rd of October, reports The Guardian.
"This is just to indicate that I'm not referring the matter of possible contempt of court by Mr Yaxley-Lennon to the attorney general for him to consider whether or not to institute proceedings. I will hear the matter myself on October 23 as ordered by the court of appeal," Judge Hilliard said.
Robinson, 35, is on bail after being released from prison in August after three appeals court judges ruled that the initial sentencing of 13-months' imprisonment was "flawed" and that the original case had the opportunity to "avoid[] the risk of sacrificing fairness on the altar of [haste]", but failed to take it.
British Army Investigating Soldiers Who Posed for Photo with Tommy Robinson https://t.co/9Q0IbV7kzt

— Breitbart London (@BreitbartLondon) October 10, 2018
The anti-Islamic extremism campaigner was remanded in custody immediately after the court appearance in May with the judge taking the unusual move of banning reporting of its details in the mainstream media, leading to accusations of censorship.
The 35-year-old could be sent back to jail if found guilty.
Last week, Breitbart London reported that young army soldiers were under investigation for misconduct after posing for a photograph with Mr Robinson, with the army saying that they may be "in breach of the army's values and standards". It is speculated that the men may be required to attend equality and diversity training.
http://feedproxy.google.com/~r/breitbart/~3/aTWyx9qwqDk/