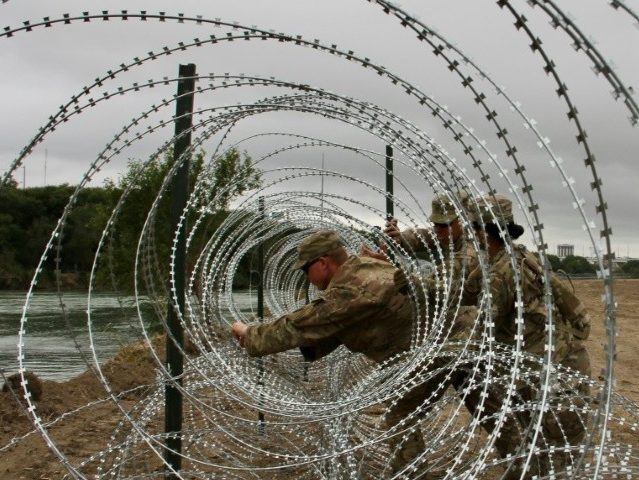 U.S. soldiers rolled out more razor wire along the U.S.-Mexican border on Monday, but the more important fight took place in a San Francisco courtroom where President Donald Trump's deputies defended his asylum reforms from pro-immigration ACLU lawyers.
The judge did not immediately issue a nationwide "Temporary Restraining Order" that would block the reforms, as hoped by the pro-immigration groups.
Trump's November 9 reform allows migrants who arrive at the ports of entry to apply for full asylum. But the policy penalizes illegal migrants by preventing them from applying for a full asylum once they are caught sneaking over the border.
The illegal migrants are still allowed to apply for a limited asylum, dubbed "withholding of removal." Officials say the reform follows the law by providing asylum-like protections to illegal migrants, but it does not allow the migrants to become citizens, and also helps border officials quickly deport the migrants.
The lawsuit is being heard by an English-born judge, Jon S. Tigar. He was appointed by former President Barack Obama in 2012 to a seat on the very progressive, migrant-friendly Ninth Circuit. If he rules against Trump's "withholding of departure" reform, Justice Department will ask the Supreme Court to quickly reverse the judge's decision.
The ACLU and its allies argue that all migrants who enter U.S. territory must be allowed to make a request for a full asylum — even if the U.S. territory is on the Mexican side of the border wall or is in the U.S. half of the Rio Grande river.
This one-foot-asylum policy would help large groups of economic migrants — such as the progressive-backed caravan of several thousand Hondurans — legally overwhelm U.S. border defenses. For example, on November 12 and 13, coyotes delivered 654 migrants, most of whom are parents with children, or youths traveling alone, to the U.S. side of the border near Yuma Arizona, according to a DHS statement. Once on U.S. territory, the illegal migrants ask for asylum — and often get catch-and-release if the local border officials do not have enough detention space.
The Associated Press reported:
"Individuals are entitled to asylum if they cross between ports of entry," said Baher Azmy, a lawyer for the Center for Constitutional Rights. "It couldn't be clearer."

…

ACLU lawyer Lee Gelernt said that some people seeking asylum cross between official ports because "they're in real danger," either in their countries of origin or in Mexico.

"We don't condone people entering between ports of entry, but Congress has made the decision that if they do, they still need to be allowed to apply for asylum," he said.
Trump's asylum reform curbs the caravan by pressuring the migrants to wait in line at the official "ports of entry," rather than by just walking over the invisible borderline in the sand or the river to claim amnesty.
At the same time, officials are also limiting the number of migrants who can apply for asylum each day at the official ports of entry.
The waiting process, dubbed "metering," allows officials to begin processing roughly 100 migrants per day. The complex legal process takes at least 40 days to accomplish, so a daily intake of 100 people per day adds up to roughly 4,000 people in detention from one entry point.
The metering process allows officials to keep a manageable number of people in the process, and to perhaps sharply reduce the number of migrants who are being released into the United States via the "catch and release" loopholes.
Ending catch-and-release is vital because it would stop migrants from getting the U.S jobs which fund the migration process. Without access to jobs, migrants cannot pay their smuggling debts to the cartels, and cannot hire the cartels to bring their spouses and children up to the United States. If the migrants cannot pay their smuggling debts, the cartels' labor-trafficking business will shrink.
The ACLU and its allies are also asking a judge to stop the metering process.
If the ACLU's elite lawyers persuade a judge to block either the metering process of the withholding of removal rule, they will cripply Trump's effort to protect American workers from cheap migrant labor, such as cheap kitchen staff at restaurants used by elite lawyers.
Trump's new asylum ban is in effect right now. This ban will not only put people's lives in danger, it is illegal and raises enormous concerns about separation of powers.

Here's what you need to know about our challenge to stop it: pic.twitter.com/0LSlJMOxBk

— ACLU (@ACLU) November 16, 2018
Meanwhile, Kirstjen Nielsen, the Homeland Security secretary, announced that officials barred some lanes in the San Ysidro border gate to prevent a rush of the caravan migrants from getting through the border gate.
.@CBP and @DeptofDefense appropriately responded by blocking the lanes, deploying additional personnel and seeking assistance from other law enforcement and federal assets. #CBP has reopened lanes for legitimate trade and travel. I want to thank them for their swift actions. pic.twitter.com/eJVVuAs0w6

— Sec. Kirstjen Nielsen (@SecNielsen) November 19, 2018
The Fake News is showing old footage of people climbing over our Ocean Area Fence. This is what it really looks like – no climbers anymore under our Administration! pic.twitter.com/CD4ltRePML

— Donald J. Trump (@realDonaldTrump) November 19, 2018
Soldiers also added razor wire to parts of the wall after migrants removed some strands of wire.
The establishment's economic policy of using migration to boost economic growth shifts wealth from young people towards older people by flooding the market with cheap white-collar and blue-collar foreign labor. That flood of outside labor spikes profits and Wall Street values by cutting salaries for manual and skilled labor offered by blue-collar and white-collar employees.
The policy also drives up real estate prices, widens wealth-gaps, reduces high-tech investment, increases state and local tax burdens, hurts kids' schools and college education, pushes Americans away from high-tech careers, and sidelines at least five million marginalized Americans and their families, including many who are now struggling with opioid addictions.
Immigration also pulls investment and wealth away from heartland states because coastal investors can more easily hire and supervise the large immigrant populations living in the coastal states.
http://feedproxy.google.com/~r/breitbart/~3/Im5aFrUeqjQ/