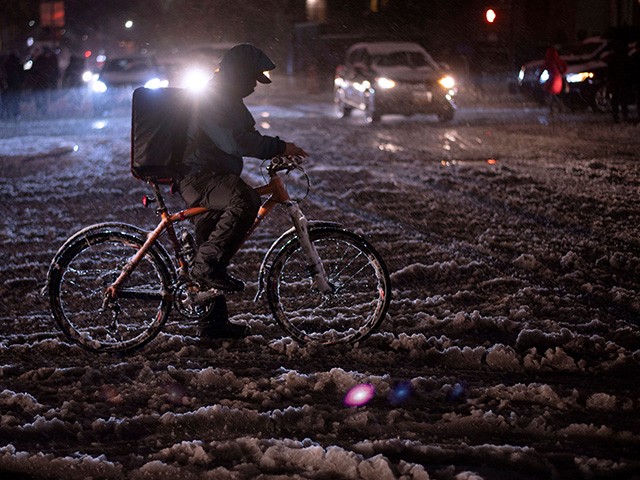 The Northeastern United States is likely in for a "frigid" Thanksgiving as chilly winds may bring "more rounds of snow and slick travel," according to reports.
Meteorologist Renee Duff writes the Northeast will face more "bouts of wintry weather" this week after snow blanketed parts of New York, New Jersey, and Virginia last Thursday. Washington, D.C. received nearly two inches of snows, causing a slew of delays and school closures. The storm was the nation's capital's first measurable November snowfall in 22-years.
AccuWeather states:
A narrow zone of rain and snow that swept through the interior Northeast through Monday evening, kicking off a train of wintry weather through midweek.

Another round of snow is likely to impact parts of the Northeast Monday night through Tuesday, according to AccuWeather Meteorologist Brett Rathbun.

…

The accumulating snow is expected to develop across northern Pennsylvania on Monday evening and spread to New England into Tuesday.
The region could receive up to three inches of snow, while a storm spanning from New York's Catskills Mountains to Maine could see between three to six inches of snowfall. However, AccuWeather notes the area could receive more than six inches if the storm gains strength quicker than forecasted. Vermont's Brattleboro, New Hampshire's Concord and Portsmouth, along with Portland, Maine, are likely to see the most snow and travel disruptions.
"Stretches of interstates 84, 87, 90, 91, 93 and 95, as well as other area roads can become slick and treacherous," said AccuWeather senior meteorologist Kristina Pydynowski. "Schools in New England that have not closed for Thanksgiving already are likely to delay or close on Tuesday."
http://feedproxy.google.com/~r/breitbart/~3/tEdOuOWqTEo/