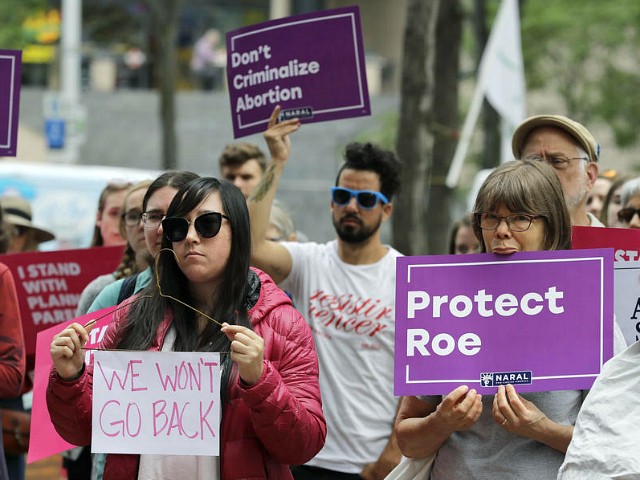 Abortion lobbying giant NARAL is launching a $1 million ad campaign intending to take down key House Republicans after the confirmation of Supreme Court Justice Brett Kavanaugh.
The ad seeks to channel left-wing rage over Kavanaugh's confirmation into votes for Democrats by claiming the new justice's confirmation is an "attack" on women.
The Republican party agenda harms & silences women—& it's time to #VoteThemOut. Our new $1M ad campaign targets @RepDavidYoung, @PeterRoskam, @RepKevinYoder, @claudiatenney, @CongCulberson, @RepJasonLewis & @RepDaveBrat: https://t.co/MjUyLSzdd8 #TakeItBack pic.twitter.com/jxDSGODXdQ

— NARAL (@NARAL) October 8, 2018
"The Republican Party takeover of our government has been devastating for women and families," said Sasha Bruce, NARAL's senior vice president for campaigns and strategy, in a press statement.
She added:
From harmful policies that attempt to control our bodies to elevating people with credible accusations of sexual assault to the Supreme Court, the Republican Party has told women that we do not matter. They have shown repeatedly, through their words and actions, that they do not value us or our bodies. They have had their say, now it is time for us to have ours and vote them out.
The Republican members of the House targeted by the ad include Reps. David Young (IA); Peter Roskam (IL); Kevin Yoder (KS); Claudia Tenney (NY); John Culberson (TX); Jason Lewis (MN); and Dave Brat (VA).
It's incredibly painful to think of the suffering that we know Brett Kavanaugh and his appointment will bring about for millions of Americans. But we will not forget this pain—not tomorrow, not next week, and not in November. We will turn this pain into POWER. #TakeItBack pic.twitter.com/edwX0cRWH7

— NARAL (@NARAL) October 7, 2018
"Right now, women are under attack," the ad's voiceover states. "And Congressman Peter Roskam's leading the charge."
"Roskam has worked in lockstep with Donald Trump, advancing an agenda that harms and silences women," the ad continues. "We know what he thinks about us. Let's show Roskam what we think of him."
NARAL states its political program for the 2018 midterms is its "largest ever midterm political program to advance candidates fighting for 'our values, our future, our vote.'"
Today, 50 senators put their politics above survivors, the integrity of the Supreme Court, and protecting our rights.
We won't forget. #NoJusticeNoSeat pic.twitter.com/AbuCeYOzMN

— Planned Parenthood Action (@PPact) October 6, 2018
In September, Planned Parenthood also announced a $20 million midterm election ground campaign to snatch control of Congress away from the GOP.
They voted Brett Kavanaugh in. And in 30 days, we can vote them out. Register to vote: https://t.co/b7T4hywKJO #TakeItBack pic.twitter.com/FnRUa1XzC9

— Planned Parenthood Action (@PPact) October 7, 2018
http://feedproxy.google.com/~r/breitbart/~3/nC7a5ymA9tQ/