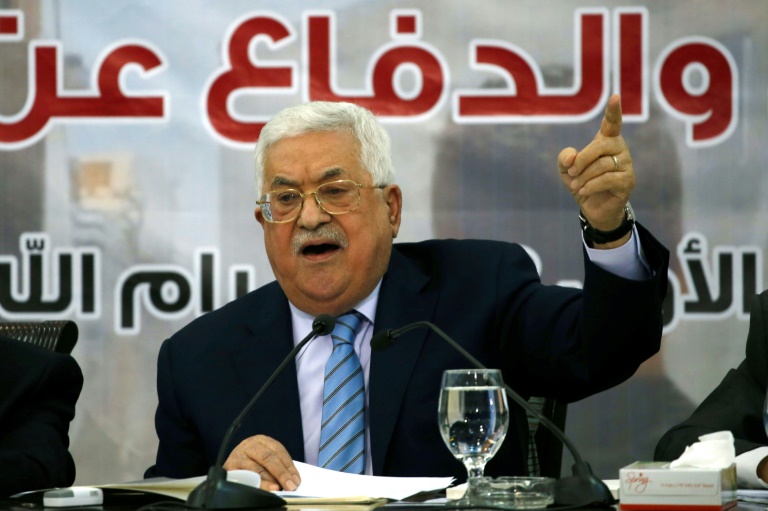 TEL AVIV – Palestinian Authority President Mahmoud Abbas reiterated his vow Saturday to thwart President Donald Trump's upcoming peace proposal and pledged to continue paying convicted terrorists and their families. 
"The occupation will end," Abbas said in a speech marking 14 years since the death of PLO leader Yasser Arafat, according to Channel 10 news.
"We will remain on our land and continue to act. We adhere to our principles. Our flag will continue to be raised on the walls of Jerusalem," he added.
He said that the Palestinians are in "one of the most dangerous stages" in their history, but would fight "all liquidationist schemes and conspiracies that are being concocted against their national cause."
His comments came as President Donald Trump's special envoy to the Middle East, Jason Greenblatt, said that the U.S. is set to unveil its long awaited peace plan in the near future.
"Neither side will like everything written in the peace plan and there will be a need to compromise," Greenblatt said during a trip to London.
"But we're sure that if the two sides agree to enter negotiations they will understand why we reached the conclusions that will be presented in the peace plan," he added.
Greenblatt stated that the so-called "deal of the century" seeks to bring a final status solution to the Israeli-Palestinian conflict and is not another interim agreement that will "only extend the cycle of suffering and violence."
"Judge our peace plan according to what it is supposed to be: a proposal for a comprehensive solution to the Israeli-Palestinian process," Greenblatt cautioned the Palestinians, according to the Channel 10 report.
Abbas accused the Trump administration of attempting to create a wedge between Gaza and the West Bank but said it would not succeed.
"They won't find one honorable Palestinian who will compromise on the right of our people to freedom, sovereignty and independence," Abbas said.
The Palestinians have boycotted Washington since Trump formally recognized Jerusalem as the capital of Israel and transferred the U.S. embassy there. The U.S. has also cut all funding to the United Nations agency for Palestinian refugees, UNRWA.
http://feedproxy.google.com/~r/breitbart/~3/r0xmMSdhto0/