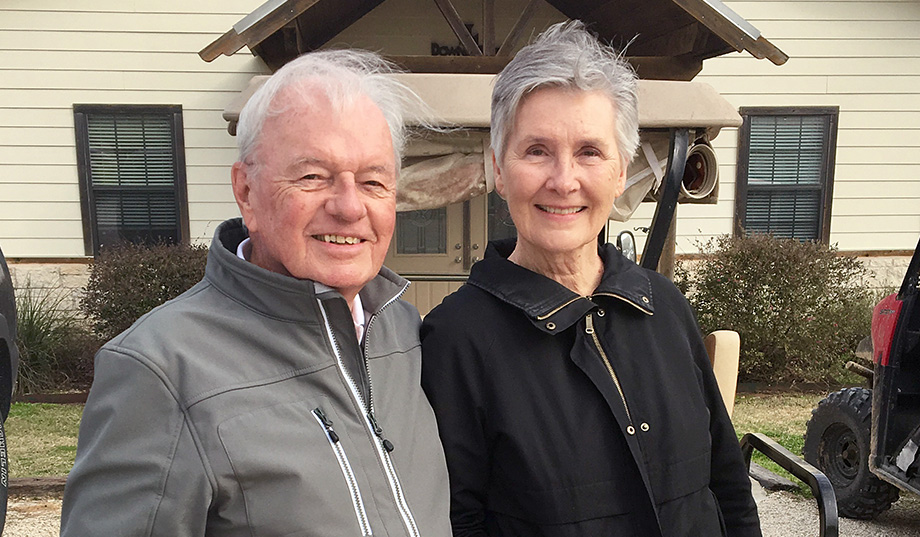 I have a couple of links to throw at you: to a Q&A and a Music for a While. The Q&A is with John U. Bacon, the veteran journalist and book-author. We are old friends and classmates, from Ann Arbor, Mich. He became the coach of our high-school hockey team: the Huron River Rats. They were the worst team in the country. And JUB turned them around, dramatically. He has written a book about this experience, with advice for various and sundry: Let Them Lead: Unexpected Lessons in Leadership from America's Worst High-School Hockey Team.
And the music podcast, the Music for a While? A nice variety of composers, and performers, and stories to go along with them. Give 'er a whirl.
Readers may remember Jerry and Judy Horton and their Down Home Ranch. I wrote about this in 2017, expanding my magazine piece into a two-part series online: here and here ("Act of Love"). I have been thinking about Jerry and Judy, because Jerry passed away earlier this month.
Down Home Ranch is near Elgin, Texas, which is about 25 miles northeast of Austin. The Hortons founded the ranch in 1989, when their daughter Kelly was five. She was born with Down syndrome. The ranch is a community — a working community — for people with Down syndrome. It is an inspired place.
Let me quote from that online series, "Act of Love":
The Hortons had strikes against them — like these three: They didn't know much about ranching; or farming; or raising money. An acquaintance of theirs, hearing about their project, was at a loss for words. Jerry said, "We're crazy as loons." The acquaintance replied, "You said it, I didn't."
A bit more:
Judy says, "I knew an old cowboy priest, who was always going on about Divine Providence. I have concluded that he was right." She also remembers what he said about them — about the Hortons, when they were just starting their ranch, leaving their former lives behind: "Those two people either have faith like I've never seen or they're dumb as a bag of hammers."
I've got to tell you a little about Jerry — again, by quoting:
Jerry Horton is not a native Texan: He grew up in San Jose, Calif. Today, San Jose is the capital of Silicon Valley, but then it was the capital of the Valley of Heart's Delight. Orchards flourished. And so did Jerry. But he had a challenge. When he was four and a half, he contracted polio. His right leg was useless. He was put in quarantine. Through a window, he looked at his parents. He vividly remembers when a nurse yanked down the curtain. It was cruel.

Jerry's father had a friend in the Shriners. Thanks to this contact, Jerry was admitted to the Shriners Hospital for Crippled Children, which was in San Francisco. After much travail, he could walk again.
He played golf and loved it. Earlier this year, he sent me a note, which had a P.S.: "Let me know when you'll be in Austin. We can play a round and then console ourselves with some good Texas bbq and Lone Star beer."
Let me quote once more from "Act of Love":
Before I leave, Jerry wants me to know something: "We're not saints. We are not comfortable with praise. It's kind of a burden, to be honest."

I always hear this, by the way, when I interview people like the Hortons. I mean, I could set my watch to it. It's as predictable as the sunrise. I broke out in a big smile — almost guffawed — when Jerry said this.

He continues, "We set ourselves to being good parents, and Down Home Ranch is one of the consequences of that."

The Hortons may not be saints, but the ranch is a saintly act. An act of imagination, energy, and love.
Damn right. If I may wax a little metaphysical, I hope to see Jerry again, whether on the golf course or not. What a guy, what a guy — just great.
https://www.nationalreview.com/corner/a-man-to-remember/