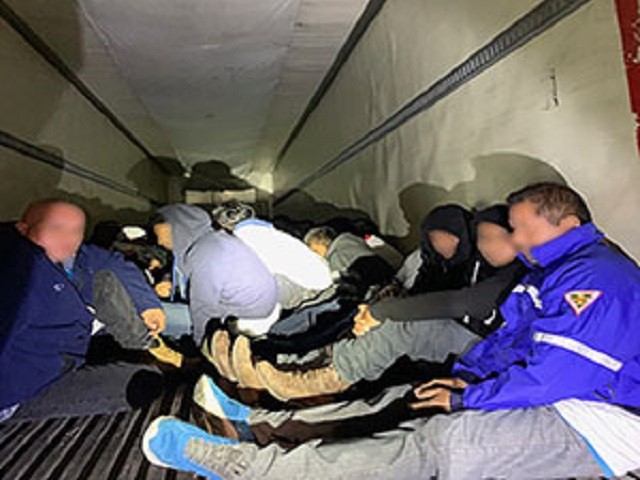 Border Patrol agents assigned to an immigration checkpoint in South Texas apprehended 81 migrants being smuggled in a refrigerated tractor-trailer. Elsewhere in the sector, Zapata Station agents disrupted another smuggling attempt and apprehended six foreign nationals.
Laredo Sector agents assigned to the Interstate 35 immigration checkpoint on November 9, located between Laredo and San Antonio, observed a red tractor pulling a white refrigerated trailer approaching for inspection. During the initial interview with the driver, the agents learned that the license plate had a stolen license plate, according to Laredo Sector Border Patrol officials.
The agents referred the driver to a secondary inspection station. During a walk around the trailer, a K-9 agent alerted to the possible presence of drugs or human cargo. Agents also noted the locked trailer displayed a fictitious seal, officials stated.
The agents unlocked the trailer and discovered 81 migrants who had been locked inside the trailer by their smugglers. The migrants would have no means of escape in the event of an accident or abandonment.
Border Patrol officials reported that the 67 males, 13 adult females, and one juvenile female came to the U.S. from Brazil, El Salvador, Guatemala, Honduras, Mexico, and Nicaragua. The migrants were all illegally in the U.S.
The agents arrested the driver, a U.S. citizen, on charges related to human smuggling and seized the tractor-trailer. The driver could also face charges related to the stolen license plate and the fictitious seal on the trailer.
Agents transported the 81 to the station where they will undergo a biometric background investigation before being processed according to Laredo Sector guidelines.
That same day, agents assigned to the Zapata Station received a tip about a driver of a green pickup truck transporting a group of suspected illegal immigrants from a ranch located near the town of Ramireño, Texas. The agents came upon the vehicle as it approached the Zapata city limits and attempted to stop the truck. The driver attempted to elude the agents and crashed through the fence of a nearby ranch. This is a common tactic used by human smugglers as they bail out and attempt to hide in the brush.
The agents conducted a search of the area and found six migrants. During an immigration interview, the agents determined all six to be illegally present in the U.S. They came to the U.S. from Mexico (2) and Guatemala (4). The agents transported the six to the Zapata Station for processing on immigration violations and seized the pickup truck.
The driver managed to evade the agents and remains at large.
Bob Price serves as associate editor and senior political news contributor for Breitbart Border/Cartel Chronicles. He is a founding member of the Breitbart Texas team. Follow him on Twitter @BobPriceBBTX and Facebook.
http://feedproxy.google.com/~r/breitbart/~3/JDGJJbCsEU8/