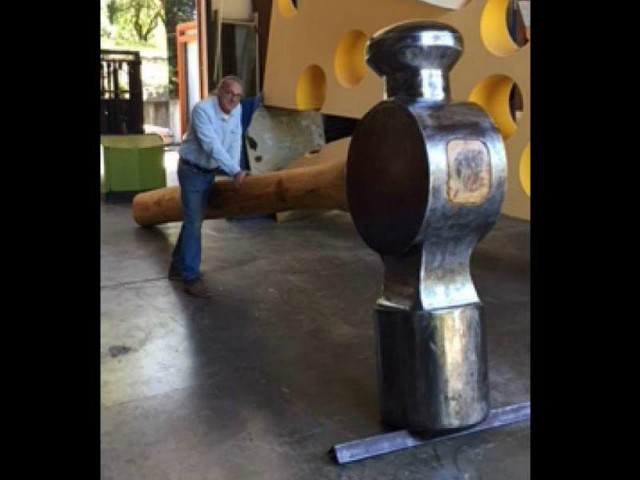 A California community is trying to recover a massive 800-pound hammer sculpture after it mysteriously went missing without a trace Friday night.
The gigantic hammer valued at $15,000 had been a temporary art installation in front of the city of Healdsburg's community center since May. The sculpture was on loan from the Voight Family Sculpture Foundation.
Local police believe multiple people were responsible for carrying out the hammer heist based on the work's size and weight. The Santa Rosa Press Democrat reported that the handle alone is a 21-foot-long piece of wood, and the six-foot-tall head contains steel mixed in with other metals.
Police have not ruled out the possibility that the statue's removal was a prank, but officials have not been able to track down any leads to corroborate that.
"(The thieves) uprooted the stand it was on and dragged it across the parking lot and probably put it on a truck, using a crane," Healdsburg officer Darryl Erkel told the Press Democrat. "Or a group picked it up."
The city requests that anyone who has information on the hammer's whereabouts call the Healdsburg Police at 707-431-3377.
http://feedproxy.google.com/~r/breitbart/~3/v_OoyrHsSec/