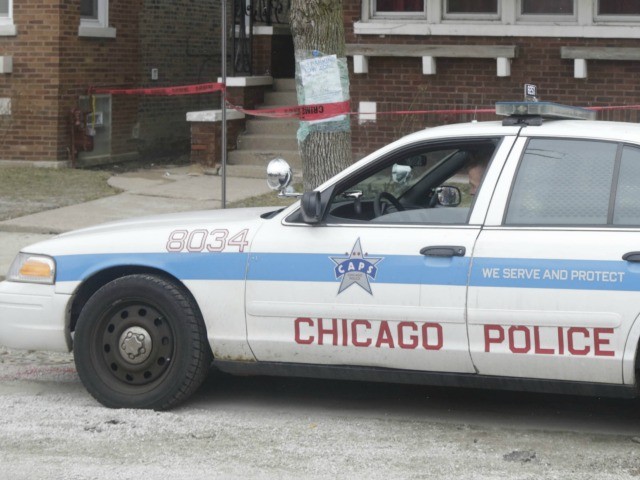 A six-month-old boy and three others were shot Wednesday night while sitting inside a car in the South Loop neighborhood of Mayor Rahm Emanuel's Chicago.
NBC Chicago reports that the shooting occurred around 9 pm "on Cermak Road near South State Street." The six-month-old boy and three others were in the car when a man in a ski mask walked up and opened fire.
Police indicated the six-month-old was shot twice in the stomach, and they found "a 13-year-old girl with a gunshot wound to the shoulder, a 37-year-old woman with a wound to the knee and a 27-year-old man who suffered a graze wound to the arm."
Another passenger, a 15-year-old, was not hit by gunfire.
Chicago has witnessed heinous outbreaks of gun crime throughout 2018. So much so, in fact, that on September 4, 2018, Rahm Emanuel announced he was not going to seek a third term as mayor.
His announcement came after Fox News confirmed that more than 1,000 people were shot between Memorial Day and Labor Day in Emanuel's Chicago, and the Chicago Tribune reported that more than 2,006 individuals were shot between January 1, 2018, and August 27, 2018.
On September 13, 2018, Breitbart News reported that Michelle Obama is kicking off a book tour in Chicago for her memoir, which means she will go to Chicago to talk about herself while innocent people–including children–are being gunned down on the city's South Side.
AWR Hawkins is an award-winning Second Amendment columnist for Breitbart News, the host of the Breitbart podcast Bullets with AWR Hawkins, and the writer/curator of Down Range with AWR Hawkins, a weekly newsletter focused on all things Second Amendment, also for Breitbart News. He is the political analyst for Armed American Radio. Follow him on Twitter: @AWRHawkins. Reach him directly at awrhawkins@breitbart.com. Sign up to get Down Range at breitbart.com/downrange.
http://feedproxy.google.com/~r/breitbart/~3/N-uFuCTB5Ok/