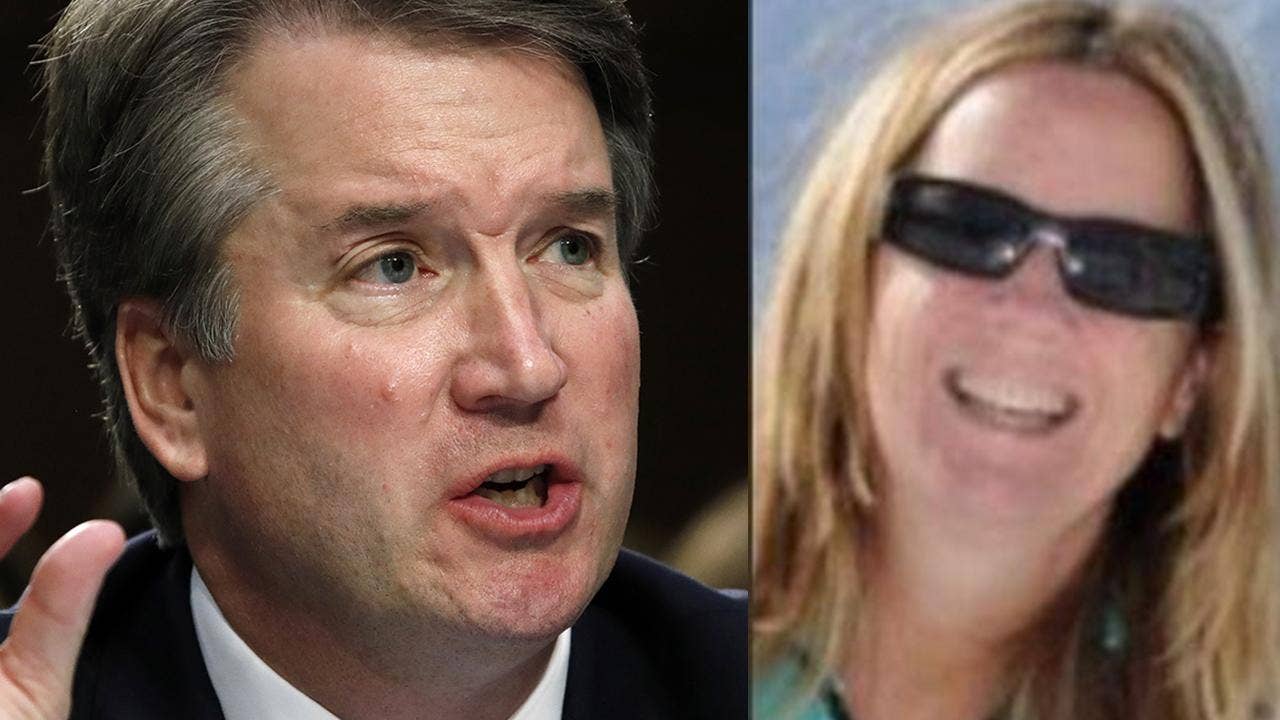 Another person claimed by Christine Blasey Ford to have attended a gathering decades ago during which, Ford claims, she was sexually assaulted by Supreme Court nominee Brett Kavanaugh has denied any recollection of having attended the party.
In an email to the Senate Judiciary Committee on Saturday, Leland Ingham Keyser, a former classmate of Ford's at the Holton-Arms all-girls school in Maryland, said she doesn't know Kavanugh or remember being at the party with him.
"Simply put, Ms. Keyser does not know Mr. Kavanaugh and she has no recollection of ever being at a party or gathering where he was present, with, or without, Dr. Ford," lawyer Howard J. Walsh III of Bethesda, Md., conveyed in an email to the committee that was obtained by Fox News.
Politico reported that the email was in response to a letter from a lawyer for the GOP majority staff, which said: "I understand that you have been identified as an individual who was in attendance at a party that occurred circa 1982 described in a recent Washington Post article."
In response, Ford's lawyer Debra Katz said: "As Dr. Ford has said, she did not share her story publicly or with anyone for years following the incident with Judge Kavanaugh.
"It's not surprising that Ms. Keyser has no recollection of the evening as they did not discuss it. It's also unremarkable that Ms. Keyser does not remember attending a specific gathering 30 years ago at which nothing of consequence happened to her. Dr. Ford of course will never forget this gathering because of what happened to her there."
Keyser's denial brings to four the number of witnesses, including Kavanaugh, who've all said they have no memory of the party or the incident.
Other denials were issued earlier this week by Mark Judge and Patrick "PJ" Smith.
Ford alleges that Kavanaugh assaulted her during a housing party in high school in the 1980s.
Keyser is a former golf coach at Georgetown University and married to Bob Beckel, a political pundit and former Democratic operative, according to the Weekly Standard.
Ford's claims have rattled Washington and stalled Kavanaugh's conformation process. Democrats have called for a delay on his confirmation vote to the Supreme Court pending an FBI investigation, something Republicans deem unnecessary.
President Trump called on Ford to provide a police report for the assault.
After much back and forth, a tentative agreement was reached for a Thursday hearing for Ford to discuss the alleged assault with the Judiciary Committee.
The Associated Press was told Kavanaugh would also appear and other terms of the agreement were still in negotiations. 
In a statement Saturday, White House spokeswoman Kerri Kupec said:
"One week ago, Dr. Christine Ford claimed she was assaulted at a house party attended by four others. Since then, all four of these individuals have provided statements to the Senate Judiciary Committee denying any knowledge of the incident or even having attended such a party."
http://feeds.foxnews.com/~r/foxnews/politics/~3/-vFTjCzAzlQ/4th-purported-witness-claims-no-knowledge-alleged-kavanaugh-assault-against-ford.html