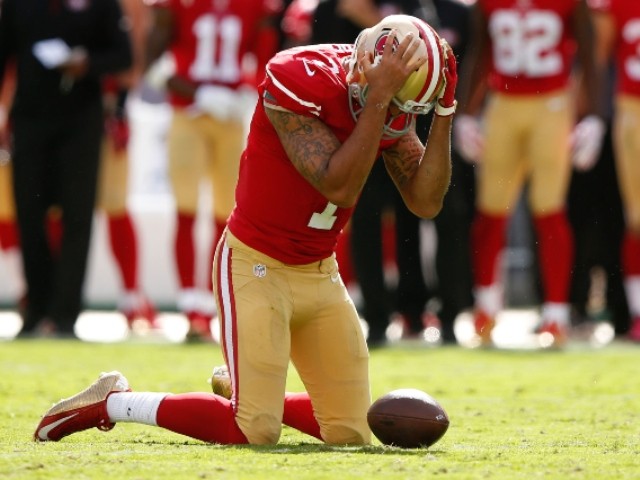 When the San Francisco 49ers lost starting quarterback Jimmy Garoppolo to a season-ending injury in September, there were calls for them to sign Colin Kaepernick.
When his backup, C.J. Beathard got hurt in October, you heard more calls for them to sign Kaepernick.
But 49ers coach Kyle Shanahan took a pass each time, and based on what happened in their win over the Oakland Raiders Thursday night, it looks like a pragmatic decision.
If Kaepernick was with the 49ers, the football world likely would never have seen Nick Mullens under center for San Francisco.
And Thursday night, with Garrappolo and Beatherd out, Mullens got a chance to start, and spearheaded a 49ers blowout win over the Oakland Raiders. The University of Southern Mississippi product completed 16 of 22 passes for 262 yards and three touchdowns. His 151.9 QB rating was the highest for an NFL QB in his debut since 1970. A perfect QB rating is 158.3.
"We've just been keeping our secret weapon ready to go," Shanahan said after the 49ers 34-3 win. "He did an awesome job today. The guys played real well around him. There's a lot on his plate coming in and being his first time in a real NFL game, non-preseason, started off real well, was very poised. Got the guys in and out of the huddle and did a helluva job."
Shanahan added, "he's a machine in there."
So why did Shanahan go with Beathard and Mullens instead of Kaepernick?
Some would say it was politically driven due to Kaepernick starting the anthem-kneeling movement in San Francisco under Shanahan's successor, Chip Kelly, in 2016.
But Shanahan has said over and over politics had nothing to do with it, and the decision was all about Kaepernick not being a good fit for their offensive scheme.
"I looked at it solely into where I wanted to go with the offensive scheme," Shanahan explained in 2017 after Kaepernick left the team as a free agent. "I think Colin's had a lot of success in this league and I think he still can have success, but you've got to commit to a certain type of scheme that gives him the best chance to succeed. I think when we knew we didn't want to fully bring him in as the starter, I thought it was a big commitment to make for a guy that I wasn't sure was going to be the starter and that's really more what you look at."
Shanahan essentially said the same thing this September after Garrappolo got hurt and some fans and reporters were lobbying for the team to sign Kaepernick.
"I think we made the decision just with our style of offense that we want to go with," Shanahan said. "That what I said last year and it's kind of the same [now]."
Shanahan runs a version of a system called, "The West Coast Offense," a precision passing game that requires the quarterback to make quick decisions and get rid of the ball fast, mainly from the pocket.
Kaepernick isn't known as a great pocket passer. He's more effective throwing on the move and scrambling in a system called, "The Read-Option."
So while some people want to make the 49ers eschewing Kaepernick the second time around about his protests, it really wasn't.
He doesn't fit Shanahan's system.
And clearly Mullens does, as he showed in his dismantling of the Raiders.
http://feedproxy.google.com/~r/breitbart/~3/sjsqbU3lmtY/