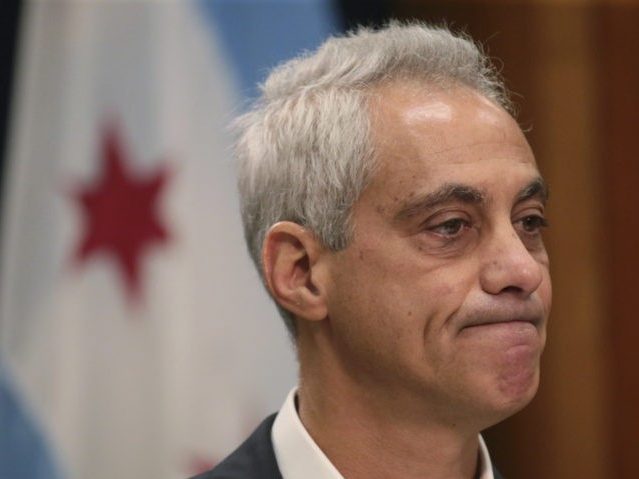 Forty-three people were shot, including five who were shot fatally, over Halloween weekend in Mayor Rahm Emanuel's Chicago.
The Chicago Sun-Times reported that beginning with Friday, each day in the weekend became more violent. For example, "three wounded and one killed Friday night, 11 wounded and one killed on Saturday, and 25 shot — three fatally — on Sunday."
The five individual killed were 16-year-old John Pena, 23-year-old Kenjuan D. Scott, 30-year-old Deshawn Jacobs, 20-year-old Detavious Beeks, and an unidenified 33-year-old male. All were fatally shot while standing on a sidewalk, walking, or inside a vehicle.
The forty-three shot over Halloween weekend represents a marked increase in gun crime compared the he Halloween weekend of 2017, when 30 were shot, including two fatalities.
On September 4, Breitbart News reported Mayor Emanuel's announcement that he would not seek a third a term in office. His decision to step came just weeks after the number of shooting victims in Chicago surpassed 2,000 for 2018.
Fox News reported that over 1,000 people were shot between Memorial Day and September 3, 2018, in Emanuel's Chicago.
AWR Hawkins is an award-winning Second Amendment columnist for Breitbart News, the host of the Breitbart podcast Bullets with AWR Hawkins, and the writer/curator of Down Range with AWR Hawkins, a weekly newsletter focused on all things Second Amendment, also for Breitbart News. He is the political analyst for Armed American Radio. Follow him on Twitter: @AWRHawkins. Reach him directly at awrhawkins@breitbart.com. Sign up to get Down Range at breitbart.com/downrange.
http://feedproxy.google.com/~r/breitbart/~3/gaP0qU4T290/