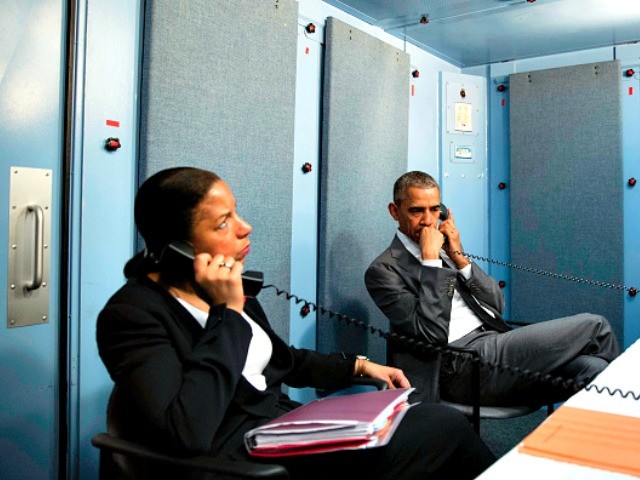 Former UN Ambassador Susan Rice suggested Friday afternoon that she would challenge incumbent Republican Sen. Susan Collins (R-ME) in 2020, following Collins's speech on the Senate floor explaining why she would vote to confirm Brett Kavanaugh to the U.S. Supreme Court. However, Rice walked back her "announcement" moments later.
As Collins began her speech shortly after 3:00 p.m. ET, and it became clear that she was offering a stirring defense of Kavanaugh, critics began encouraging each other to donate to crowdfunding efforts to support her opponent — who has yet to emerge.
Suddenly, it looked as though Rice had thrown her hat into the ring, delighting leftists:
— Susan Rice (@AmbassadorRice) October 5, 2018
Paging @SenatorCollins. This just in from the Department of Hell to Pay. pic.twitter.com/C22dohMJLR

— John D. Burns (@johnburnsnc) October 5, 2018
Susan Collins might as well hang it up now. https://t.co/dSAOJdK3xO

— Markos Moulitsas (@markos) October 5, 2018
However, Rice walked back her apparent announcement less than half an hour later:
Many thanks for the encourgement. I'm not making any announcements. Like so many Americans, I am deeply disappointed in Senator Collins' vote for Kavanaugh. Maine and America deserve better. https://t.co/6oGFTFuO1Q

— Susan Rice (@AmbassadorRice) October 5, 2018
Rice is most notorious for falsely blaming the 2012 Benghazi terror attacks on an anti-Islamic YouTube video, which she and others claimed had provoked a "protest," even though the Obama administration knew otherwise.
More recently, she was named as one of several outgoing Obama administration officials known to have "unmasked" the names of U.S. citizens who were motioned by counter-intelligence efforts. The "unmasking" led to then-National Security Advisor Michael Flynn's conversations with then-Russian ambassador Sergey Kislyak being leaked.
Joel B. Pollak is Senior Editor-at-Large at Breitbart News. He is a winner of the 2018 Robert Novak Journalism Alumni Fellowship. He is also the co-author of How Trump Won: The Inside Story of a Revolution, which is available from Regnery. Follow him on Twitter at @joelpollak.
http://feedproxy.google.com/~r/breitbart/~3/vgeU7WYMHCY/