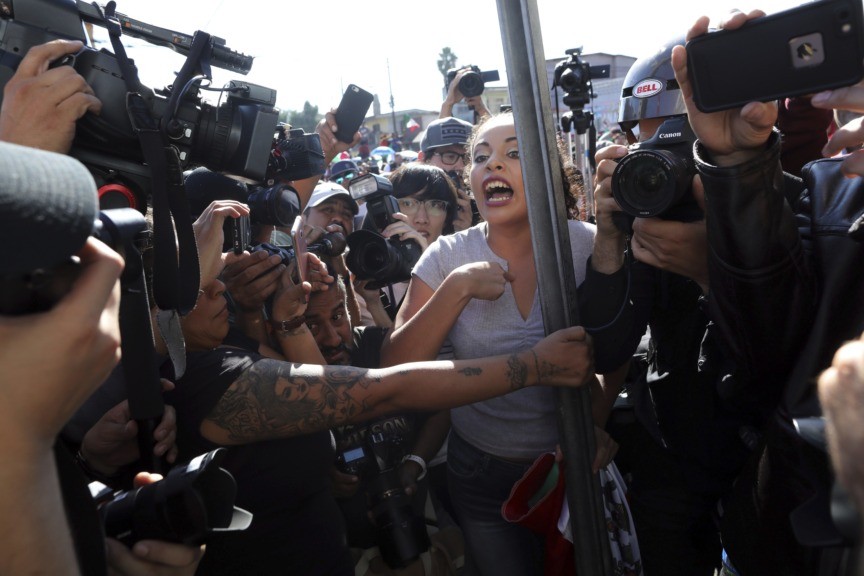 The migrant crisis in Tijuana continues to intensify as migrants flood into the border city which is in the midst of a deadly cartel war that has now registered 2,220 in 2018.
Tijuana Mayor Juan Manuel Gastélum Buenrostro declared a humanitarian crisis this Thursday slamming his federal government's response in dealing with the migrant caravan that has engulfed the beleaguered city as Breitbart News reported. Mayor Gastélum Buenrostro voiced his dissatisfaction with the poor response of the federal government in providing aid for the more than 5,000 caravan migrants who have arrived in the city. The mayor vowed not to bankrupt the city in order to care for those arriving in the city. Officials expect more to arrive daily. Migrant shelters are at full capacity and government resources stretched to the limit.
The migrant crisis is occurring as Tijuana is dealing with an ongoing cartel war that has now reached over 2,220 homicides for the year according to statistics compiled by the state attorney general's office. Officials reported least 141 killings in the month of November as of November 24.
Local law enforcement contacts in Tijuana related to Breitbart Texas that vital law enforcement resources are being diverted to provide security for the migrant shelters. Law enforcement also provides security in the streets for those migrants who have refused to check into a designated shelter. Security personnel who were used to deal with the bloody cartel war are now being used to protect the migrant community. This application of resources angered many local Tijuana residents who demanded that the local government do a better job in dealing the record-breaking body count attributed to the cartel war.
The cartel killings are related to the street level distribution of drugs, despite numerous measures taken by the federal government to intervene, according to local reporting and law enforcement sources.
The bloodshed is generally related to turf wars involving Cártel Tijuana Nueva Generación (CTNG), aligned with El Cártel de Jalisco Nueva Generación, against the Sinaloa Cartel. In some areas, rival factions within the Sinaloa Cartel are fighting for control of the lucrative street-level markets and smuggling routes into the United States. Those involved in the killings are primarily low-level dealers, lookouts, customers, and enforcers. Many of the street-level dealers are targets of rip-crews looking for cash and drugs. Tijuana Deputy Attorney General Jorge Alberto Álvarez Mendoza recently acknowledged that only 2 percent of cases end in convictions. 
In one of the most recent killings, a Tijuana municipal police officer was ambushed early Saturday morning at approximately at approximately 3 am while traveling in his personal vehicle in colonia El Florido by cartel gunmen traveling in a second vehicle. The police officer, identified as Officer Joel Huerta Ramírez, was able to drive nearly a mile where he stopped and sought help from Red Cross paramedics. The paramedics then transported him to the hospital where he succumbed to his wounds. According to local media reports, his vehicle sustained at least 10 bullet impacts.
Robert Arce is a retired Phoenix Police detective with extensive experience working Mexican organized crime and street gangs. Arce has worked in the Balkans, Iraq, Haiti, and recently completed a three-year assignment in Monterrey, Mexico, working out of the Consulate for the United States Department of State, International Narcotics and Law Enforcement Program, where he was the Regional Program Manager for Northeast Mexico (Coahuila, Tamaulipas, Nuevo Leon, Durango, San Luis Potosi, Zacatecas.)
http://feedproxy.google.com/~r/breitbart/~3/d2BwGOHngxU/