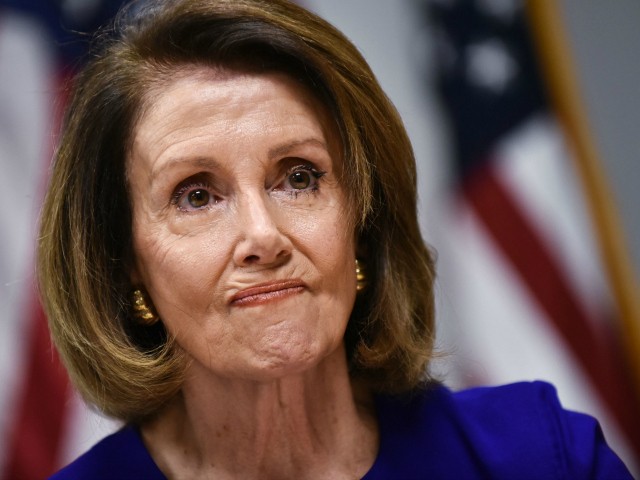 Seventeen House Democrats will pledge on Monday to oppose Rep. Nancy Pelosi's (D-CA) bid for speaker of the House, which may block her attempt to lead the House of Representatives.
House Democrats sent a letter to their colleagues, pledging to block Pelosi's election in the Democratic Caucus and floor votes for speaker. The message arises two weeks after Democrats gained a majority in the House for the first time in eight years.
"We promised to change the status quo, and we intend to deliver on that promise," the Democrats wrote to House Democrats. "Therefore, we are committed to voting for new leadership in both our Caucus meeting and on the House floor."
"Our majority came on the backs of candidates who said that they would support new leadership because voters in hard-won districts, and across the country, want to see real change in Washington," the insurgent Democrats added.
Since Democrats seized control of the House, Pelosi has remained to lead the House as the next speaker. However, a new wing of newly elected Democrats has voiced concerns, suggesting a new generation of Democrats should lead the House.
Currently, Democrats hold a 232-seat majority in the House, meaning that Pelosi can only afford to lose 14 Democrats if Republicans vote for Rep. Kevin McCarthy (R-CA) for speaker. If the 17 Democrats vote against Pelosi on the floor and no other members vote present, she will not have the votes to become speaker.
Rep. Tom Reed (R-NY) told Breitbart News Sunday that he, along with several Democrats and Republicans, would back Pelosi for speaker if they adopt rule changes empowering rank-and-file House lawmakers. Otherwise, Reed contends that Pelosi "has a real math problem."
The insurgent Democrats launched their campaign for new House Democrat leadership less than one day after the November midterm elections, thanking Pelosi for passing some of the party's "most important legislative achievements," such as Obamacare and the Dodd-Frank financial legislation; however, the Democrats suggested "the time has come for new leadership."
The anti-Pelosi Democrats have reached out to newly elected members who promised to vote against Pelosi if elected, which includes incoming Rep. Max Rose (D-NY) and Anthony Brindisi, although election officials have yet to call his race.
The current representatives who have signed the letter are:
Tim Ryan (D-OH)
Seth Moulton (D-MA)
Kathleen Rice (D-NY)
Ed Perlmutter (D-CO)
Kurt Schrader (D-OR)
Filemon Vela (D-TX)
Marcia Fudge (D-OH)
Linda Sanchez (D-CA)
Bill Foster (D-IL)
Brian Higgins (D-NY)
Jim Cooper (D-TN)
Stephen Lynch (D-MA)
The incoming members include:
Jeff Van Drew (D-NJ)
Joe Cunningham (D-SC)
Max Rose (D-NY)
Anthony Brindisi (D-NY) (Race has yet to be called)
Ben McAdams (D-UT) (Race has yet to be called)
Incoming Democrat Reps. Abigail Spanberger (D-VA), Jason Crow (D-CO), Jared Golden (D-ME), and Conor Lamb (D-PA) have declined to sign the letter, although the Washington Examiner suggested they will vote against Pelosi for speaker.
Pelosi has not taken the challenge lightly. The California Democrat has dangled out key endorsements from powerful advocacy groups, hosted dinners, floated committee assignments, proposed the creation of selection committees, and reminded the caucus of her fundraising ability.
Pelosi raised $121.7 million for the 2018 midterm election cycle, which helped Democrats flip 37 seats across the nation.
"Democrats ran and won on a message of change," the Democrats wrote.
http://feedproxy.google.com/~r/breitbart/~3/hxXTBjoypLE/