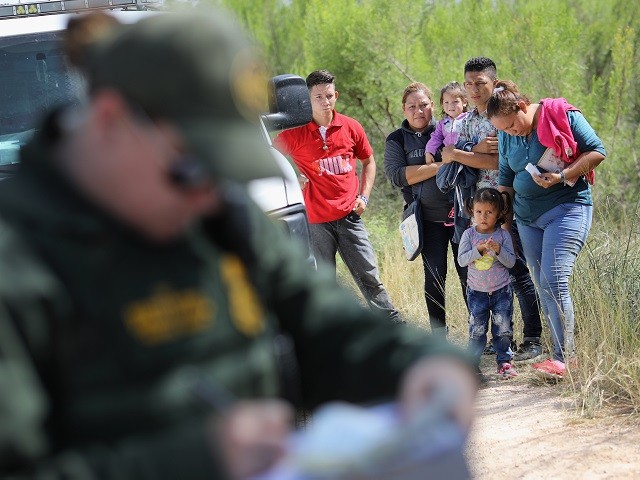 Central American migrants continue to flow into the Rio Grande Valley Sector in large numbers, Border Patrol officials say. In about 24 hours, agents apprehended nearly 100 from Central American countries including families and unaccompanied minors.
Weslaco Station agents working near the border town of Hidalgo, Texas, encountered one large group of migrants on Tuesday evening. Agents said the group gathered along the U.S. side of the Rio Grande border with Mexico before moving out to find a law enforcement officer so they could surrender, according to Border Patrol officials.
The Border Patrol agents rounded up the migrants and placed them into custody, officials stated. The agents interviewed the group of 30 and learned they came to the U.S. without documentation from Guatemala.
The following day, Weslaco Station agents came upon another large group near the Hidalgo Pump House, officials stated. The agents took the 69 migrants, mostly from El Salvador, Guatemala, and Honduras, into custody for immigration violations. Many of those apprehended are expected to request asylum and will likely be released.
In a separate incident on Wednesday morning, Breitbart News reported that Weslaco Station agents apprehended another group of 74 migrants. This group was also found near Hidalgo, Texas, officials stated.
The apprehension of these large groups of migrants comes as a third caravan is bound for the U.S. from Central America, Breitbart News reported on Wednesday.
The third group appears to be made up of about 2,000 Salvadorans including men, women, and children. The first two caravans organized earlier in October created tension between the migrants and border officials in Mexico and Guatemala.
When the caravan migrants arrive, they will add to a system that is already overwhelmed by the continuing flow of Central American migrants.
During Fiscal Year 2018, Border Patrol agents witnessed a 30 percent increase in the number apprehensions between ports of entry along the U.S. border with Mexico. During the fourth quarter of the just-ended fiscal year, officials reported an 80 percent increase in the numbers of Family Unit Aliens.
The Rio Grande Valley Sector in South Texas continues to lead the nation in the apprehension of Family Unit Aliens (FMUA) and Unaccompanied Alien Children (UAC). The sector witnessed a 27 percent increase in the number of FMUAs apprehended in 2018 compared to the previous fiscal year, officials reported. The number of families apprehended jumped from 49,896 in FY2017 to 63,278.
Bob Price serves as associate editor and senior political news contributor for Breitbart Border/Cartel Chronicles. He is a founding member of the Breitbart Texas team. Follow him on Twitter @BobPriceBBTX and Facebook.
http://feedproxy.google.com/~r/breitbart/~3/G6snI_XKlx8/